Do you want your YouTube videos to receive more views? Enhancing your video thumbnails is a simple way to do that. In order to get views on YouTube, your YouTube thumbnail size is equally as crucial as its title.
Potential viewers are drawn to your Youtube thumbnail size, which aids them in choosing which video they should finally select to watch—hopefully yours! YouTube is a fiercely contested arena for video marketers.
So much so that seemingly insignificant details like thumbnail images can have a significant impact on how well your films perform overall.Everything you need to know about YouTube thumbnail Size in pixel and dimensions will be covered in this post.
Starting with the proper size, best practices, samples, and even design tools may make your Youtube thumbnail size for images stand out.
What is a Thumbnail?
A compressed, clickable image preview known as a "thumb picture" serves as a representation of a video's original content. The platform you choose determines the Youtube thumbnail size images. Speaking of YouTube videos, the titles and thumbnail images serve as virtual advertisements that encourage people to watch the content, whether they intend to or not. A compelling thumbnail may draw viewers to your YouTube channel and increase the appeal of your video content to a variety of advertisers.
YouTube thumbnail Size & Dimensions
Your YouTube thumbnail size must have the appropriate size in order to be effective.
These are the optimal measurements:
Dimensions: 1280720 (with a minimum width of 640 pixels)
16:9 aspect ratio
2MB file size
1. Use text overlays to attract attention
By using text in your thumbnail, you may attract visitors' attention and offer them a brief summary of the content of the video. If you want to give additional context to what you did in the title, this is extremely beneficial.
Here's an illustration example:
It's not exactly the best keyword to include in your video title if "fake duck kidney." But putting it in the thumbnail might get people interested and get them to click and watch.
2. Make it relevant
Everyone dislikes clickbait. Make sure your thumbnail images accurately depict the events in your films. You can both entice potential viewers to click and make sure they won't be let down by what they see by providing a preview of the video, like the thumbnail below.
3. Include your Channel's logo
If you incorporate your logo into the thumbnail images you use, you can bolster the prominence of your brand and increase the likelihood that visitors will recall your brand name. This will not only be helpful if people want to find you on YouTube, but it also has the potential to generate some word-of-mouth marketing for you if they tell their friends about it. Your company's logo shouldn't be plastered all over the main size of the YouTube thumbnail. Instead, it should be placed in a discreet spot and kept there.
Vevo's logo is consistently displayed in the lower left-hand corner of the screen:
It has no impact whatsoever on the overall YouTube thumbnail Size In Pixels & Dimensions 2022, but it draws immediate attention to the fact that Vevo is the owner of the video and that it was published by Vevo.
4. Remember that less is more.
YouTube thumbnails are quite small, so it's important that you don't overcrowd your image. This may sound contradictory, especially when we're also advising you to include your logo and text overlays, but there is an important balance to strike.
If there's too much happening on-screen, then your thumbnail size could actually turn people away instead of drawing them in. And that's the opposite of what you want!
5. Pique people's interest
Your thumbnail size is the main selling point of your video. It's often the difference between people watching your video or watching another (probably made by a competitor).
If your thumbnail size makes people curious, then they're more likely to click on the video. You can spark curiosity with action shots, like this:
Or, if there aren't any interesting action shots in your video, you can create a thumbnail with graphics that will pique the interest of potential viewers:
6. Test! Test! Test!
When it comes to the creation of a thumbnail for a video on YouTube, the options are practically limitless. Testing is the only way to determine what works and what does not work, as there is no other way to get this information. Swap them out every couple of weeks and monitor the difference in views to see what your audience finds engaging.
It's possible that putting words in the thumbnail of your movie will result in more people watching it, but why stop there? You may change the text's size, font, colour, and just about anything else you want to! There is no proper or improper action to take at this time. It is necessary to conduct experiments in order to determine the preferences of your audience.
7. Maintain consistency
If you keep your channel's content consistent, it will be easier for people to find your videos and watch them on YouTube, whether they are on the homepage or in the search results. In addition to this, it will also assist in improving the presence of your brand on the platform.
Take a look at the following example: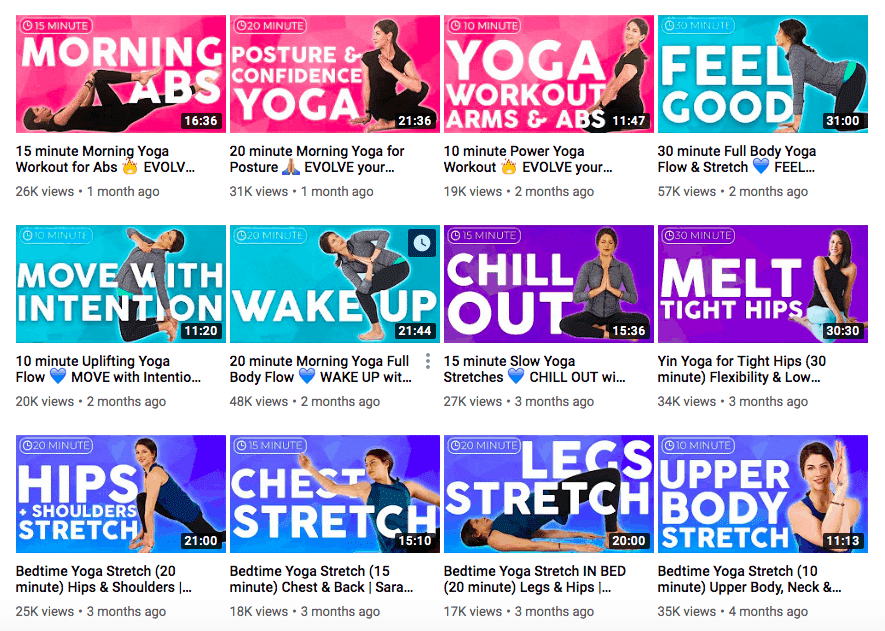 If you've previously experimented with different Youtube thumbnail size and know what works best for your channel, this is an extremely smart move for you to make.
How to create a thumbnail for a video on YouTube
Your YouTube thumbnail serves as the book's cover when it is that size. It's the very first thing someone watching your video thinks when they see it. But how exactly does one go about creating scroll-stopping thumbnails that attract the attention of viewers?
Do you need to know how to use Adobe Photoshop or another picture editor to make these great thumbnails?The uplifting news is that the answer is no! Because there are now many free online picture editing tools at your disposal, you should have no trouble creating high-quality thumbnails for your YouTube videos.
Let's have a look at a few of these different tools:
Canva is an easy-to-use program that allows you to design and create a wide variety of pictures. With its assistance, you'll be able to give your own YouTube video thumbnail size a polished and clickable appearance. It is simple to generate a thumbnail picture that is appropriate for a YouTube video thanks to an extensive library of ready-to-use templates (see the image below) and an editing mechanism that has been streamlined. Canva's use is completely free, and it also receives frequent updates with user-created templates. You may design a YouTube thumbnail that advertises your video by selecting the template that best fits your needs and then editing the colours, fonts, text, and photos.
Pixlr is another program that can be used to generate YouTube thumbnail dimensions and YouTube thumbnail sizes that have a professional size. It has a user interface that is both useful and straightforward, making it quite simple to operate. You may also design your thumbnails using one of the many pre-made themes that are available on Pixlr. Pixlr is where you'll find some of the most stunning Youtube thumbnail size designs for YouTube videos, including those related to beauty, lifestyle, and travel. Do you want additional information about how to make scroll-stopping thumbnail proportions for YouTube? What dimensions are used for YouTube's thumbnails? Have a look at this informative guide.
A tutorial on how to edit a YouTube thumbnail image
If you don't choose a thumbnail size before you upload your video to YouTube, the site will choose one for you. It's possible that this isn't the most flattering photograph of you at all! Imagine having to pause the show so you can go to the kitchen for a bite.
You can never be sure what another person's face will seem like. The same is true for the thumbnail pictures that are generated automatically by YouTube. Even if you don't have time to make a unique photo, you can still modify the image that appears in the thumbnail since YouTube will provide three other thumbnails for you to choose from.
If you click a button, you can change your background to any of these three options right away. The first thing you need to do is go to the home page of your YouTube channel. To see your thumbnail image, just click on your icon, which is sometimes called your profile picture and is in the top right corner of YouTube.
A menu that can be dropped down will appear.
Simply select the "my channel" option.
Select a video from your YouTube account.
After that, select "videos" from the menu that appears to the right of the "home" button.
You are now able to view all of the videos that you have submitted to your channel on YouTube, along with the thumbnails that correspond to each one.
Choose the video that you would want to edit the thumbnail for on your YouTube channel.
Select "Edit video" from the drop-down menu.
After selecting the appropriate video, you will see an option labelled "edit video" beneath the YouTube player.
You may use this button to make changes to the video.
Choose a picture to use for your YouTube thumbnail
When you click the "edit video" option, you'll notice that YouTube immediately creates three possible thumbnail photos for you to choose from.
Simply select the image you want to use as your thumbnail by clicking on it, and then select Save in the top-right corner of the screen.
The selection of a thumbnail could not be simpler than it is with this method, which only requires a few clicks.
Now that we know how to generate a YouTube thumbnail, let's have a look at the ideal size for a YouTube thumbnail.
Avoiding YouTube Thumbnail Errors
We have covered all there is to know about optimism your YouTube thumbnail photos so that you can get the most out of the platform. Let's take a look at some things that you shouldn't be doing right now. There are a few things to keep in mind to avoid making mistakes (besides just using the thumbnails that come with YouTube or making the thumbnails the wrong size).
These are the following:
That's a lot of text.
You should include some text since it will help your video run better.
Nevertheless, you should avoid using too much text. When people cannot read the text with a single, fast glance to the side, there is too much of it.
You should never have more than a succinct title, and if it is absolutely essential, a succinct subtitle should be placed beneath it in smaller print.
You want there to be just enough text for people to understand what you are trying to say, and no more.
Having text that is inadequately sized
In some cases, companies will try to make sure that the writing on their photos is small and unobtrusive so that it doesn't take away from the picture itself. But sometimes we let ourselves get carried away, which makes it hard for visitors to read the text when the image is shown as a thumbnail in search results or video suggestions.
This may result in a decrease in the number of clicks that you receive. I pick a picture that either doesn't belong or gives the wrong impression. In the same way that certain blog entries aren't always labelled, this happens more frequently than you'd imagine; firms pick lovely stock photographs that then never appear in the post.
A video on YouTube with the title "How to Draw Flowers on Cupcakes" is something I've seen before. Yes, I did watch it even though you told me not to, and the thumbnail showed a pretty cupcake with a rose on top. After watching the whole thing and expecting to see this magnificent end result, it was obvious that the image was a stock photo; the final output of the movie really looked like something I could make, which is not a good thing.
The Step-by-Step Guide to Picking Your Own Custom YouTube thumbnail Size In Pixels
You are well aware of the adjustable thumbnail dimensions available on YouTube. Creating a thumbnail that is the appropriate size for YouTube is one of the most important things you can do to increase the number of people who watch your videos and achieve success on YouTube. However, creating thumbnails that are on par with those created by professionals can be quite difficult if you are new to the platform.
Even if you lack experience with more sophisticated video editing programs, it is not outside the realm of possibility to accomplish this. Now that we've covered the basics, let's move on to some more advanced techniques that will really make your personalized Youtube thumbnail size stand out:
Please sign in to your account on YouTube.
Navigate to the verification page, and then follow the instructions that are displayed there.
Pick the method that you would want to use to get the verification code sent to you.
Either a phone call or a text message will do the trick here.
Choose your home country and enter your phone number in the corresponding boxes.
After you have finished entering all of the information, the Get Code button will become active.
Make sure you click on it
In order to finish the verification procedure, you will need to enter the verification code that you got. After that, YouTube will send you a notification that your request was successful.
At this point, you will be brought to a screen that displays a collection of badges as well as the status of your YouTube account in relation to the applicable features. Since your account is now validated, the ability to post custom thumbnails should have been enabled for all of the movies automatically at this point.
You can check this at any time by going to the menu bar and going to Settings > Channel > Feature eligibility.
Conclusion
Many companies choose to use one of YouTube's automatic thumbnails rather than create a personalised featured Youtube thumbnail size for their videos. This implies that they miss out on the opportunity to attract the interest of customers by providing a Youtube thumbnail size that is exciting and engaging, which would ordinarily lead to a click. Make sure that the dimensions of any custom images you upload to YouTube are accurate and that you are using industry standards.