Are you looking to get more views on your YouTube videos? One easy way to do that is to improve your video thumbnails. Your thumbnail size for YouTube is just as important as its title when it comes to attracting views. Your thumbnail size for YouTube draws the attention of potential viewers and helps them decide which video they should ultimately decide to watch—hopefully yours!
YouTube is a competitive battleground for video marketers. So much so, that something as seemingly trivial as your thumbnail pictures can actually make a huge difference in the overall success of your videos.
In this article, we're going to take a look at everything you need to know about YouTube thumbnail dimensions. from the ideal dimensions, through best practices and examples, and even design tools that can make your thumbnail pictures pop.
What is a Thumbnail?
A thumbnail picture is a clickable and compressed image preview that represents the original content of a video. The size of the thumbnail pictures is based on the platform you use.
Speaking of YouTube videos, titles and thumbnail pictures act like billboards that help the viewers to decide whether to watch the videos or not. A well-designed thumbnail can attract people to your YouTube channel and, further, make your video content more appealing for a wide range of advertisers.
YouTube thumbnail dimensions
In order for your YouTube thumbnail to have the best impact, it needs to be the correct size. The ideal  dimensions are as follows:
Resolution: 1280720 (with a minimum width of 640 pixels)
1. Grab attention with text overlays
Adding text to your thumbnail can help to draw viewers in and give them a quick insight into what the video is going to be about. This is especially helpful if you want to add more context than you did in the title. Here's an example:
'Fake duck kidney' isn't exactly a great keyword to include in your video title! But, including it in the thumbnail can spark curiosity and encourage people to click and watch.
2. Make it relevant
Nobody likes clickbait. So make sure your thumbnail pictures reflect what actually happens in your videos. By giving potential viewers a hint of what they will see in the video – like the thumbnail below – you can not only encourage them to click but also ensure they won't be disappointed by what they see.
3. Include your logo
By including your logo in your thumbnail pictures you can strengthen your brand presence and also improve your chances of viewers remembering your brand name. This will not only come in handy when they want to search for you on YouTube, but it could also help you generate some word-of-mouth marketing if they tell their friends.
Instead of plastering your logo over the main size of youtube thumbnail, place your logo in a discreet place, and keep the placement consistent. Vevo always includes their logo in the bottom left-hand corner:
It doesn't detract from the main size of the YouTube thumbnail at all, but it makes it instantly clear that Vevo uploaded and owns the video.
4. Remember that less is more.
YouTube thumbnails are quite small, so it's important that you don't overcrowd your image. This may sound contradictory, especially when we're also advising you to include your logo and text overlays, but there is an important balance to strike.
If there's too much happening on-screen, then your thumbnail size could actually turn people away instead of drawing them in. And that's the opposite of what you want!
5. Pique people's interest
Your thumbnail size is the main selling point of your video. It's often the difference between people watching your video or watching another (probably made by a competitor).
If your thumbnail size makes people curious, then they're more likely to click on the video. You can spark curiosity with action shots, like this:
Or, if there aren't any interesting action shots in your video, you can create a thumbnail with graphics that will pique the interest of potential viewers:
6. Test! Test! Test!
When it comes to creating a Youtube thumbnail, the possibilities are almost endless. There's only one way to find out what works and what doesn't, and that's to get testing.
To find out what your viewers respond to, swap out your every couple of weeks and measure the difference in views. You may find that you get more views on a video with text in the thumbnail, but why stop there? You could tweak the size of the text, the font, the color, and so on!
There's no right or wrong thing to do here. It's all about testing and finding out what your viewers prefer.
7. Be consistent
Consistency will help viewers to identify your videos among the masses of results on their YouTube homepage or search results screen. And it will also help to strengthen your brand presence on the platform. Take a look at this example: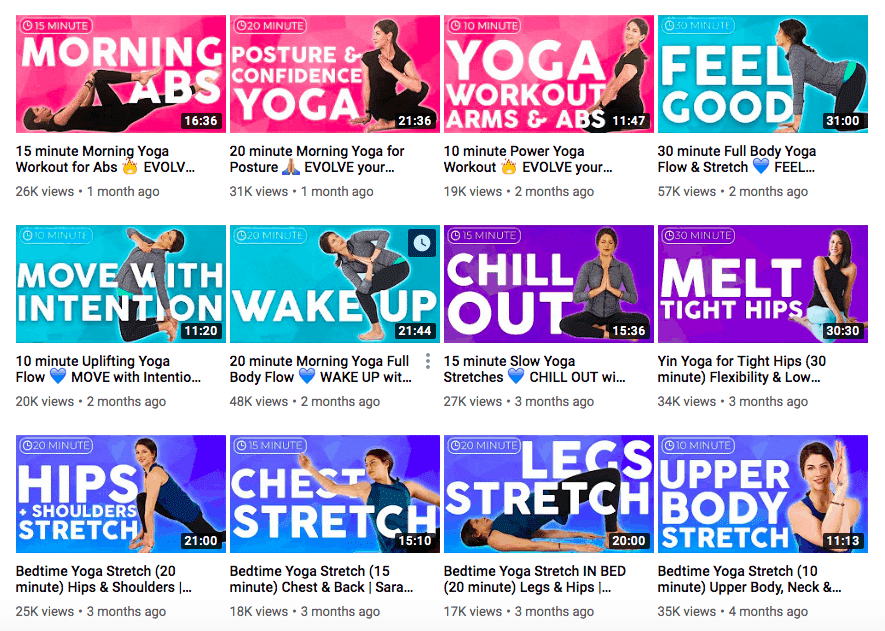 This is an especially good idea if you've already tested your yt thumbnail size and know what works best for your channel.
How to make a YouTube thumbnail?
Your YouTube yt thumbnail size works as a book cover. It's the very first impression your viewer gets of your video. But how do you make scroll-stopping thumbnails that get eyeballs? Do you need knowledge of Adobe Photoshop or a photo editor to make these professional thumbnails? The good news is, that you don't! Because you now have access to free photo editing tools online that can help you make great thumbnails for your YouTube videos. Let's check out some of these tools.
An intuitive tool to design and create all kinds of images, Canva will help you make your own YouTube video yt thumbnail size look professional and clickable. With an exhaustive list of ready-to-use templates (see image below) and a simplified editing system, you can easily create a relevant YouTube thumbnail image. Canva is free to use and updated regularly with templates from users as well. Check out how you can make a Youtube thumbnail using Canva here.
Pick the template you need, customise colours, fonts, text, and images to make a YouTube thumbnail that also promotes your video.
Another tool you can use to create a professional-looking YouTube thumbnaildimensionsthumbnail size for YouTube is Pixlr. With a helpful and intuitive image editing interface, it's very easy to use. You can also avail of the various templates on Pixlr to create your thumbnails. You'll find beautiful YouTube thumbnail templates for travel, lifestyle, and beauty videos on Pixlr.
Want to know more about making scroll-stopping YouTube thumbnail dimensions? What is the thumbnail size for YouTube? Check out this helpful guide.
How to change a thumbnail on YouTube
If you don't choose a YouTube thumbnail dimension, YouTube will automatically select one for you. Sometimes, this may not be the most flattering image!
Imagine pausing the TV to run and get a snack. You never know what someone's face could look like. The same applies to automatic YouTube thumbnail images.
If you don't have time to create a custom picture, you can still change the thumbnail image, as YouTube will automatically suggest three thumbnails. Changing to one of these three images is as simple as the click of a button!
Step One: Go to your YouTube channel's home page.
To access your YouTube thumbnail image, click on your icon (also considered your profile picture) in the upper-right corner.
A drop-down menu will appear. Click on "my channel."
Step Two: Select your YouTube video
From there, click on "videos," located just right of the "home" button.
You can now see all the videos you have uploaded to your YouTube channel, including the thumbnail for each video. Select the video for which you would like to edit your YouTube thumbnail.

Once you have clicked on the correct video, you'll see an "edit video" button underneath the YouTube player.
Step four: Choose your YouTube thumbnail image
Once you click the "edit video" button, you will see that YouTube auto-generates three potential thumbnail images.
Simply click on the image you'd like to use as your thumbnail, then click Save in the upper-right corner.
This is the easiest way to choose a thumbnail with a few simple clicks. Now let's look at how to create a YouTube thumbnail with the perfect YouTube thumbnail size.
Youtube Thumbnail Mistakes to Avoid
We've talked about everything you can possibly do right to get the most out of your YouTube thumbnail images. Now let's take a look at what you shouldn't do.
When it comes to mistakes to avoid (aside from just using YouTube's default thumbnails, or using the wrong thumbnail size), there are a few things to keep in mind. These include:
Too much text
Some text is good, and will improve your video's performance; you just don't want too much text. If users can't read the text in one quick, sideways glance, it's too much. You should never have more than a concise title, and, if absolutely necessary, a concise subtitle in smaller text beneath it. You want just enough text to get your point across and no more.
Having text that's too small
In some cases, businesses try to make the text on their images small and unassuming so it doesn't detract from the image itself. Sometimes we get carried away, though, and the text is too small for users to read when the image is a small thumbnail in searches or video recommendations. This can reduce the number of clicks you get.
Choosing an image that isn't relevant or is misleading
This happens more often than you'd think, just like some blog posts aren't always named; businesses choose stunning stock photos that then never show up in the post.
I once saw a YouTube video titled "How to Draw Flowers on Cupcakes." The thumbnail was a beautiful, rose-adorned cupcake (yes, I watched it, don't judge me). After sitting through the whole thing, waiting to see this stunning end result, it was clear that the image was a stock photo; the video's final product actually looked like something I could do, which is not a good thing.
How to Choose a Custom Thumbnail Image on YouTube
As you already know, custom YouTube thumbnail dimensions Making the thumbnail size for YouTube is essential to get people to watch your video and have success on YouTube, but making thumbnails like pros can be pretty challenging if you are new to it.
It is entirely possible, even if you lack skills with advanced video editing tools. Now, let's jump into some quick and easy tips to make your custom YouTube thumbnail pop.
Login to your YouTube account.
Go to the verification page and follow the steps given there.
Choose the mode that you want to receive the verification code in. It can either be a text message or a phone call.
Select the country you live in and your phone number.
Once you enter all the details, the Get Code button is enabled. Click on it.
Enter the verification code that you receive and complete the verification process.
You will then receive a success message from YouTube.
Finally, you will see a screen that shows you a set of badges and your YouTube account status enabled with the eligible features.
Since your account is verified now, the option to upload custom thumbnails should be enabled now for all the videos. You can always check this by navigating to Settings > Channel > Feature eligibility.
Conclusion:
Instead of a personalized featured thumbnail, many businesses just use one of YouTube's automated thumbnails. This means they miss out on the chance to pique consumers' interest with a fun, engaging youtube thumbnail dimensions thumbnail size for youtube that might normally lead to a click. Make sure your custom photos for YouTube are sized correctly and that you're following best practices.